Flash Note
Carmignac Portfolio Unconstrained Global Bond, armed to face fixed income challenges ahead
Markets have been looking for a new way forward. The impact of central bank intervention on both the real economy, which remains sluggish, and on financial asset prices, is reaching its limits. A general move towards more expansionist fiscal policies now seems to be their guiding light. It meets with popular approval, and fits in with central banks' growing constraints. The US election is a decisive stage in this transition. European countries will be next with many going to the polls in 2017. In this context, the economic cycle, characterised by a global improvement in growth and inflation forecasts, the shift under way from monetary to fiscal support, as well as political downside scenarios, present a challenge to investors looking to extract performance while navigating risks in bond markets.
With the main risk of rapidly rising interest rates, 2017 calls for flexible and unconstrained bond management that comprises latitude to face challenged markets and to seize arising opportunities across the globe. Carmignac Portfolio Unconstrained Global Bond can successfully navigate these turbulent times, as vividly demonstrated in 2016. Our conviction driven, non-benchmarked and flexible philosophy has also generated compelling returns in the long-run.
2016: Unforgiving reality test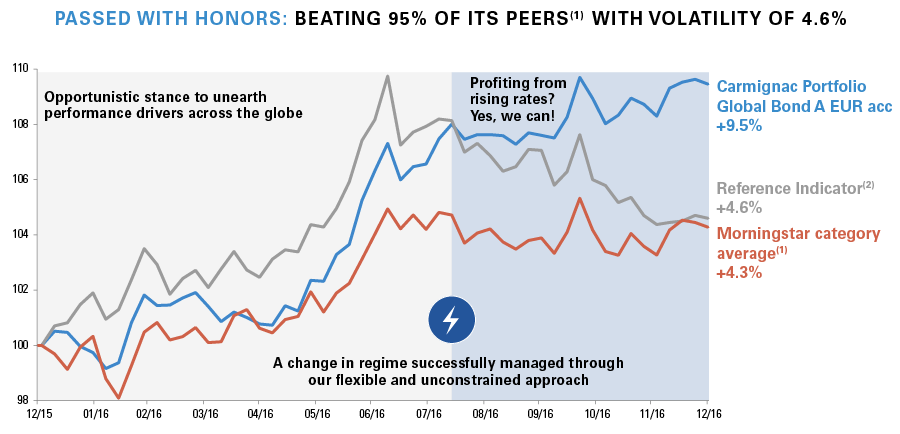 1st part of the year was marked by a high duration to core rates, thorough selection of EM debt and attractive opportunities in European subordinated bank bonds and CLOs.

Short positions on US and German government bonds was a core strategy in 2nd half of the year.
Successful management of modified duration throughout the year…
The first semester was marked by the Fund's high modified duration due to the risk of disinflation in many developed economies. It mostly fluctuated between 7 and 10 with an emphasis on US, German, Australian and New Zealand government bonds. The Fund benefited from yields falling sharply in these countries. Our significant allocation to dollar and yen to hedge against the risk aversion on financial markets also proved beneficial.
After the collapse in interest rates during the first half of the year, we substantially reduced the risks of our portfolio by reducing our overall modified duration by shorting US and German rates, reducing allocation to European peripheral sovereign bonds and increasing our cash and equivalents. Moving forward, we expect US and Eurozone inflation to rise faster than consensus while potential protectionist and fiscally loose policy from the UK, Japan, and the US, could all work to bring longer-end rates higher over the short-term.
… while generating returns through key performance drivers
Carmignac Portfolio Unconstrained Global Bond's opportunistic and conviction-driven approach was especially centered on seizing attractive risk premiums in emerging countries, more specifically on the debt segment. Emerging market debt still appears to offer interesting opportunities, supported by Chinese macro stabilization, commodity price rebound, improving current account balances of some emerging countries and more and more attractive yields versus developed countries. However, selectivity is key in an environment that continues to be volatile. Evaluating each country's risk and opportunity set is fundamental to single out the best stories in this heterogeneous universe. Moreover, we believe that commodity exporting countries should continue to offer attractive risk premiums in comparison with manufacturing countries in emerging markets.
On the credit side, we maintained our allocation to subordinated debt in the European bank segment and European CLOs throughout the year. European bank credit of national champions should outperform, as the multi-year trend of de-risking, de-leveraging, and re-regulating banks works to decrease the excessive systemic discount in bank credit spreads. In particular, the banking policy shift from taxpayer funded bail-outs to unsecured creditor funded restructuring and resolution should drive increased bank risk differentiation and flight to quality. Moreover, the ECB's entrance into an already expensive Eurozone non-bank investment grade credit market ought to force investor rebalancing into our favorite bank themes. Finally, on European CLOs, regulatory constraints and crisis scars allow us to benefit from very attractive spread levels considering the near complete absence of historical defaults.
Unconstrained approach delivering sturdy track-record
The Fund demonstrates not only strong outperformance amongst peers(1) but also the ability to generate above average risk-adjusted returns (4-star overall Morningstar rating).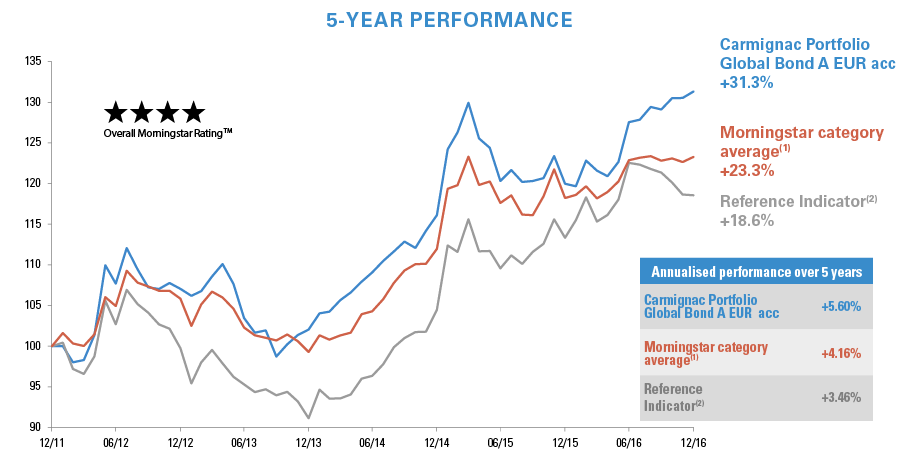 Investment strategy of Carmignac Portfolio Unconstrained Global Bond (Luxembourg Sicav Sub-Fund)
Carmignac Portfolio Unconstrained Global Bond is an international fixed income UCITS fund that implements interest rate, credit and currency strategies across the globe with a total return approach. Its flexible and opportunistic style enables the Fund to implement a largely unconstrained and conviction-driven allocation. The Fund aims to outperform its reference indicator (JP Morgan GBI Global EUR), calculated with coupons reinvested, over a minimum recommended investment period of two years. The capital is not guaranteed.
Main risks of Carmignac Portfolio Unconstrained Global Bond
INTEREST RATE RISK
Interest rate risk results in a decline in the net asset value in the event of a variation in interest rates.
CREDIT RISK
Credit risk is the risk that the issuer may default.
CURRENCY RISK
Currency risk is linked to exposure to a currency other than the Fund's valuation currency.